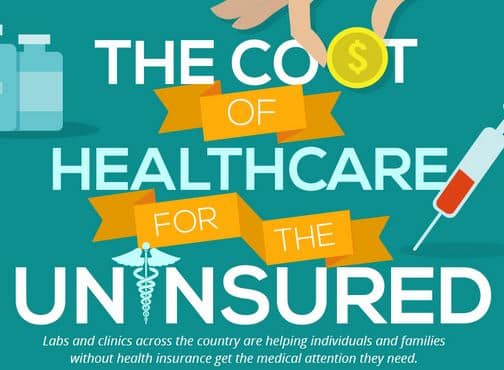 Infographic: Cost of Medical Care With No Health Insurance
Infographic: Cost of Medical Care With No Health Insurance
---
The costs of medical care are higher than ever and citizens in the United States are currently spending more on healthcare than any other nation. In 2010, our government introduced the Patient Protection and Affordable Care Act (quickly dubbed "Obamacare") which set out to lower the costs of healthcare in the United States. Since its launch, the program has been an extremely dividing issue with critics pointing to excessive bureaucracy, ineffective policies, and widespread corruption. Whether you love it or hate it, Obamacare has been one of the defining legislative issues of our time, but it's not the only way that citizens can get affordable healthcare.
With so much emphasis on single-payer systems, state-run exchanges, and emergency room visits many people don't realize that there are often simple, cost-effective ways to get the medical attention they need without insurance. Whether you're uninsured, under-insured, or just looking to save money, there are many options available for those who are cost savvy.
From optometry and blood work to prescription fills, this infographic explains exactly how and where patients can find the most affordable options for medical care. For instance, did you know that you can save up to 80% by choosing generic prescriptions over name-brand, or receive free vision care? These are just two of the money saving tips you will find in this new infographic, courtesy of Walk-In Lab.
Post this on your site (Embed Code):