9 Restaurant Meals Named 'Dis-Honorees'
9 Restaurant Meals Named 'Dis-Honorees'
---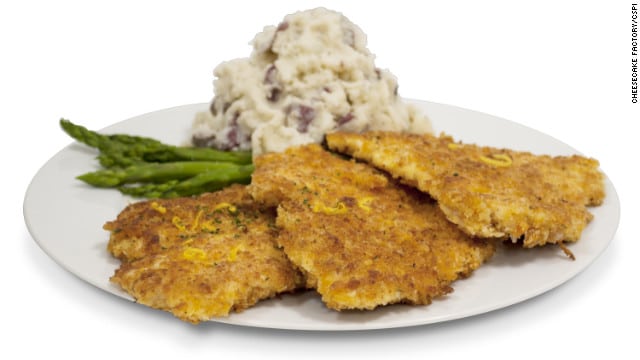 We all know that every once in a while, going out to a restaurant for a good eat is o-k! However, some of the meals that they have listed on the menu, is not quite up to par in the health department.
Below are 9 meals from 9 different restaurants, that you should quite possibly think twice about eating!
Bistro shrimp pasta from The Cheesecake Factory.
This dish of crispy battered shrimp, fresh mushrooms and arugula is tossed with spaghettini in a basil-garlic-lemon cream sauce. It weighs in at 3,120 calories, 89 grams of saturated fat and 1,090 milligrams of sodium, equal to three lasagna classic entrees and a tiramisu from Olive Garden.
Cheesecake Factory's crispy chicken costoletta
was not too far behind. According to the menu, it's a chicken breast lightly breaded and sautéed to a crispy golden brown. It is served with a lemon sauce, mashed potatoes and fresh asparagus.
It also has 2,610 calories, more than a 12-piece bucket of original recipe Kentucky Fried Chicken, and 4½ days' worth of saturated fat.
Johnny Rockets bacon cheddar double burger, sweet potato fries and Big Apple shake.
This meal packs on 3,500 calories, 88 grams of saturated fat — that's four days' worth — 3,720 milligrams of sodium and 15 teaspoons of sugar
Country fried steak and eggs at the International House of Pancakes, or IHOP,
has 1,760 calories, 23 grams of saturated fat, 3,720 milligrams of salt and 11 teaspoons — nearly two days' worth — of sugar,
The veal porterhouse at Maggiano's Little Italy
has roasted garlic, caramelized onions and lemon with crispy red potatoes. It also has 2,710 calories, 45 grams of saturated fat and 3,700 milligrams of sodium
Maggiano's chocolate zuccotto cake
contains 1,820 calories, 62 grams of saturated fat and 26 teaspoons of sugar
Smoothie King's peanut power plus grape smoothie
may sound healthy, but the 40-ounce size has 1,460 calories and 22 teaspoons of sugar.
Chili's full rack of baby back ribs with Shiner Bock BBQ sauce
comes with homestyle fried and cinnamon apples. It also comes with 2,330 calories, 45 grams of saturated fat and 6,490 milligrams of salt.
And finally, Uno Chicago Grill's deep dish macaroni and three cheese
had a day's worth of calories — 1,980 — and more than three days' worth of saturated fat, 71 grams. It also contains 3,110 milligrams of sodium.