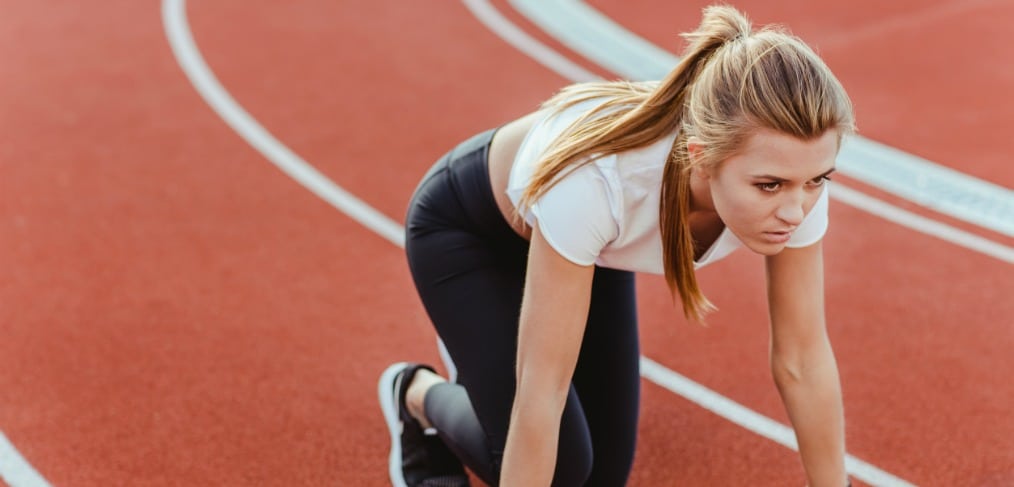 Fitness Secrets of Olympians
Fitness Secrets of Olympians
---
It's almost that time again Every four years the world goes Olympic crazy and, for a few short weeks, good old fashioned athletics takes center stage of the world's attention. Not everyone has what it takes to be an Olympic athlete, obviously, but that doesn't mean that we can't use the fitness secrets of Olympians to jet fuel our own Olympic health kicks. It doesn't matter if it's on the treadmill, in the pool or on the running track, the top fitness secrets of Olympic athletes can really improve your performance.
4 Fitness Secrets of Olympians
The Summer Olympics Edition:
Swimming
USA swimming has such legendary Olympians as Michael Phelps, Dara Torres, Dana Vollmer, and Missy Franklin!  But you don't need to have a pool to follow their workout secret! One of their lesser known fitness tips actually takes place on dry land in the weight room. One look at Phelps, Torres, and Franklin will show you their powerful arms and shoulders – all the better to propel themselves through the water with – and they hone these physical aspects with heavy weights.
Phelps considers doing pushups and pullups as essential. Dara likes to focus on ab workouts as she wrote in her own book.  Dana focuses on strength conditioning, pushing the boundaries beyond the gym by taking ballet classes. To avoid swim related injuries, Missy takes yoga classes. Her workout coach's motto is that "posture dictates function."
So when it comes to tips for an Olympic body in swimming, you definitely need to hit the weights to improve your lengths in the pool.
Running
Who's faster than Usain Bolt? Well, nobody. That's the point. You might think that "running like Usain Bolt" isn't much of an Olympic fitness tip, but the goal here isn't to get as fast as him, it's to mimic how he gets fast in the first place. Sure, he does a lot of gym work to maintain explosiveness, but one of his biggest Olympic fitness secrets is his diet.
Breakfast: Ackee and saltfish with dumplings, cooked banana, yellow yam, and potato.
Lunch: Pasta and chicken breast.
Dinner: Rice and peas with pork
What you get out of your body is all about what you put into it. Garbage in, garbage out!
Gymnastics
Having a strong core is essential to succeeding at Olympic gymnastics – just ask Aly Raisman, the two time Gold medal winner and one time bronze winner in gymnastics at the 2012 Olympic games. Our Olympic fitness tricks for her are simple, and they're all about building a strong core.
You don't have to tumble around a mat or take your chances on the high bar to build a strong core. One easy way to do it, and it's a way that a lot of gymnasts use regularly in their training, is to take a sports yoga class. Sports yoga builds a strong core through slow, deliberate movements that allow you to build a rock solid core. And it's endlessly scale-able – you can make the workouts more or less difficult by alternating your standing leg, or using alternate arms.
You'll be tumbling around the gym in no time at all. For the record, that's now two Olympians advocating yoga!
Soccer
The hopes of the USWNT at the Olympics rest in the safe hands of Hope Solo. If you want to dominate like Solo, you've got to train like her. While she is known to hit the gym like a train, her real Olympic fitness secret is bodyweight training. That's right – soccer goalkeepers need to have strength, but also agility and flexibility.
You don't need to build flexibility by stretching – you need to apply body weight training. Body weight training has a lot of benefits aside from the increase in flexibility. It also relaxes your central nervous system, which is a really underappreciated goal when it comes to strength and work.
The best bodyweight exercises are the old school ones you might have learned in gym class. Look for improving your ability at chin-ups, push ups, spider walking, and bear crawls to building up your strength, flexibility and movement.
By following these Olympic fitness secrets, you'll be fighting fit in no time. You can follow all the Olympic athletes at NBC Olympics while you're at working out too. You might never be an Olympian, but that doesn't mean you can't harness the Olympic spirit to boost your health. Before starting any new exercise regimen, get tested. Make sure you don't have any health issues you might make worse doing these exercises!